Research Funding
The North Dakota Space Grant Consortium participates in funding research projects through UND and other regional institutions.
College Student Research Mini-Grants
Mini-grants are available for undergraduate and graduate students who are completing STEM- or NASA-relevant research that directly affects their thesis or dissertation (or a similar culminating project that enables students to graduate; unique projects must be approved by the NDSGC). These mini-grants will be awarded each semester and may include materials funding. All funds will be distributed on a competitive basis and released depending on the current fiscal year's budget. The maximum award for each individual is $1,000. Students may earn up to one mini-grant per degree program. Students who have already completed research through the NDSGC, having earned a fellowship, mini-grant, or internship, are eligible to apply for the NDSGC to cover publication fees under this mini-grant program. If you are awarded a mini-grant, a final report must be completed to be eligible for future awards. Stipends are unallowable. Students requiring only travel expenses are encouraged to consider the NDSGC Travel Grants. For additional information, please contact Marissa Saad.
Upcoming application deadlines:
Fall semester: August 15th
Spring semester: December 1st
Summer semester: April 15th
The application form will open one month prior to each deadline.
Graduate Research Assistantships
The NDSGC provides two ½ time Graduate Research Assistantships (GRAs) to the UND Department of Space Studies to conduct NASA‐relevant research. The UND Department of Space Studies is the nexus of various disciplines of space research in North Dakota and provides diverse, interdisciplinary, and advanced opportunities in NASA-relevant areas of science and engineering. Funded students are expected to conduct research and graduate with a publishable M.S. thesis. Learn more about UND Space Studies. For additional information, please contact Caitlin Milera.
Human Space Flight Laboratory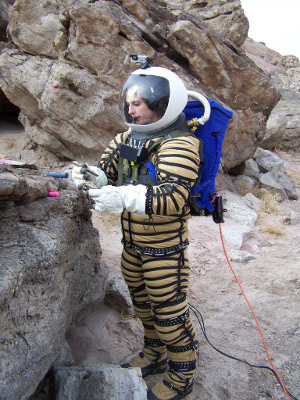 Since 2004, dozens of dedicated individuals, including students, faculty, and experts, have contributed to incorporate a human spaceflight component to the Space Studies Department at UND. This is one of the few universities in the world to offer human spaceflight training. The Human Spaceflight Laboratory offers hands-on involvement through graduate and undergraduate research positions, NASA projects, and activities related to human spaceflight. This research, led by Pablo de León, includes space suit prototypes: the North Dakota Experimental-1 (NDX-1) designed for Martian expeditions, the NDX-2 designed for the Lunar surface, and most recently the NDX-2AT used in the Planetary Exploration Initiative tests for extra-vehicular activity. UND is the first university with a NASA-funded laboratory dedicated to designing and constructing space-exploration and planetary surface exploration suits. UND is also the first university with two fully-operational spaceflight simulators. These simulators are real-life models of NASA's Apollo command module and SpaceShipOne, both funded by the NDSGC.
Inflatable Lunar Habitat
In 2009, the laboratory was awarded a large NASA grant for the North Dakota Planetary Exploration Initiative. This initiative was an effort to develop, design, construct, and test an Inflatable Lunar Habitat (ILH) with an attached Pressurized Electric Rover (PER). The ILH consists of a frame surrounded by a "bladder" which protects the habitat from the surrounding atmosphere. The PER was built to have two NDX-2 planetary suits externally attached, which are accessible from inside the rover. The mission of the joined habitat, rover, and planetary suits is to test a conceptual planetary Moon/Mars base.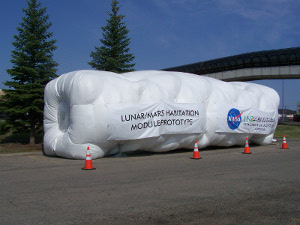 The ILH is a pressurized habitat that can house four people for up to 30 days. There are four bedrooms, a galley, dining area, bathroom with shower and toilet, and a lab area for scientific work. The ILH is attached to the PER via a docking tunnel allowing for pressurized access between them. The PER, equipped with communications antennae and survival supplies, can accommodate two people and is capable of traveling for several hours on a single charge and has a top speed of 25 mph.
The initial testing of the integrated components took place in the fall of 2013, as three UND graduate students lived as the crew members for a ten-day mission. These students included Travis Nelson (Commander), Erica Dolinar (Mission Specialist), and Timothy Buli (Science Officer). The focus of the mission was to test out the space suits during EVAs, the PER, the docking tunnel, and the functionality of the ILH, to prepare for future longer-duration missions.
In 2014, three Space Studies graduate students participated in a 30-day mission. The crew members were Tyler Hill (Mission Engineer), Tim Buli (Science Officer), and Jonathan Schiralli (Mission Specialist). Other graduate students performed the duties of Mission Control throughout the month as well. Research projects conducted during the mission included microbial sampling in partnership with NASA's Jet Propulsion Laboratory, horticulture studies and waste production (food growth and sustainable living in a closed environment), geologic mapping of the surrounding area through both extra-vehicular activity and with the remotely-operated MArs Compliment to Humanity rOver (MACHO), psychological studies, and physiological studies. The key objective of the mission was to confirm that the facility was capable of supporting a month-long mission. Much of the research conducted also provided data for master's theses at UND. The crewmembers recorded their experiences during both (and subsequent) missions on the UND Human Spaceflight Laboratory Blog.
The NDSGC is proud to have been a part of funding these endeavors, which inspire the next generation of scientists, engineers, and explorers, giving them unique, first-hand experience in various aspects of space exploration.
Affiliate Seed Grants
The Affiliate Synergistic and Collaborative Engagements across ND (ASCEND) program is designed to promote, develop, and expand NASA research and projects within North Dakota. These grants, which may be research- or teaching-based, will be defined by the goals found within NASA's Mission Directorates (MDs) and the NDSGC's proposal. Please review the ASCEND solicitation for further application guidance and information.
Eligibility: Any formal or informal educator at an NDSGC Affiliate Institution who is a US citizen and conducting STEM or STEM Education research that is relevant to NASA. Affiliate PIs must be from a non-research NDSGC affiliate institution. Affiliate Co-PIs can be from any NDSGC affiliate institution.
Award: varies each year; the 2021-2022 award may include up to two awards of $15,000
Deadline: December 1st, 2021 at midnight

Award Period: January 1st - April 22nd, 2022

Asteroid and Meteorite Research Group
Asteroid research in North Dakota has grown substantially since 2003 and has received more than $750,000 in NASA funding. This effort will grow this developing area by building collaborations and research projects with faculty and students from multiple colleges and universities and expand specific asteroid research capabilities, which currently focus on near‐infrared spectral observations of near‐Earth and main‐belt asteroids.
Solar Physics/Space Weather Research Group
In collaboration with the North Dakota NASA EPSCoR program, this effort will develop a new, multi‐institution research group in solar physics in North Dakota. Solar physics research is new in the state, but beginning efforts have already led to $50,000 in funding and the beginning of two research projects that will lead to three M.S. theses. Nationally, solar physics expertise at universities and colleges is lacking and this effort will address both the national need to bolster academic solar physics capabilities and offer a new education and research area in North Dakota.
Mars Research Group
Academic research on Mars in North Dakota has occurred at a low level, primarily at North Dakota State University, despite Mars being a central focus for planetary science research since the late 1990s. This effort will develop a multi‐institution, multi‐faculty research cluster that will develop specific areas of research expertise that are applicable to the study of Mars.
Planetary space suit research in North Dakota has been nurtured since 2004 and has already led to highly successful multi-institution research programs, such as the NDX-1 Mars planetary space suit. Continuation of this research has been bolstered in FY 2009 by $741,000 in funding for a three-year grant from the NASA EPSCoR CAN program to develop a lunar inflatable habit, pressurized rover, suit port assembly, and space suit (the NDX-2). The Consortium will value-add this NASA funding, as necessary, and work to ensure its continuing development and expansion. Learn more on the Human Spaceflight Laboratory website.
Earth sciences research is of fundamental importance to many North Dakota industries, including agriculture, ranching, and land-use. NASA-funded Earth sciences research is occurring in North Dakota, but this effort will work to expand this activity by matching faculty from multiple institutions and learning from the expertise of faculty currently conducting Earth sciences research.
Materials science is a broad research area that has many NASA applications. Currently, active NASA-related materials science research is occurring at North Dakota State University (NDSU). The Consortium will pursue efforts to assist and expand the research occurring at NDSU while also searching for faculty around the state who wish to partner with NDSU and to expand similar or complementary research areas.
CubeSat Design, Development, Launch, and Operation
Despite involvement in NASA scientific research in North Dakota, no lasting effort has been made to develop a space engineering expertise within the state, which would be complementary to the ongoing space science research. In addition, space engineering offers the ability to develop a new manufacturing sector in North Dakota and to involve students and faculty in hands-on engineering and research. CubeSats, which are small satellites, offer an ideal way to begin developing an in-state space engineering expertise. Many universities have CubeSat programs underway and both NASA and the National Science Foundation are showing increasing interest in the use of CubeSats for research. Learn more on the CubeSat website.
Other Small Satellite Programs
The NDSGC supports efforts to develop small satellites through other programmatic opportunities that include the University Nano-satellite Program, EyasSat, and others. Learn more about EyasSat and nanosatellites.
ASCEND questions can be directed to Marissa Saad.
UND Internet Observatory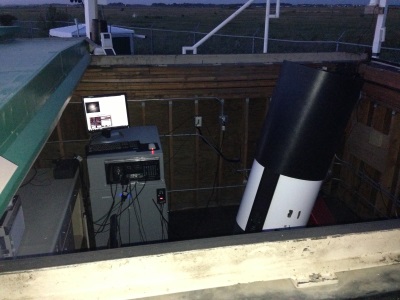 Located in the middle of a biology preserve near Emerado, North Dakota, the University of North Dakota Department of Space Studies operates a small Internet-controllable astronomical observatory for research and education.
Built in 1996 and renovated in 2005, in part with help from the North Dakota Space Grant Consortium, the refurbished observatory includes two Meade classic 16-inch and one 10-inch Schmidt-Cassegrain telescopes, that support a variety of CCD imaging cameras. The observatory includes three roll-off roofs to protect the telescopes from inclement weather, along with a remote weather station and an all-sky camera.
Currently, this observatory is being used for Master's-level thesis and independent study projects at UND and as an educational resource for two courses in observational astronomy. Recent research projects include broadband photometry of T Tauri stars and of G2V (Sun-like) stars to constrain their ranges of variability over long time periods, asteroid spectroscopy and photometry, solar research, and an education-based thesis involving students from Central High School in Grand Forks learning observational astronomy concepts and techniques. Learn more about the UND Observatory.