Pearl I. Young Scholarship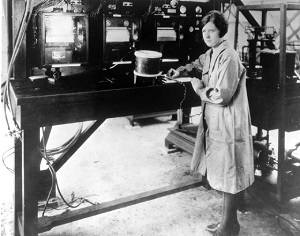 The NDSGC has established the prestigious Pearl I. Young Space Grant Award for a female student at the University of North Dakota. This $2500 award honors the ideals of scholarship as exemplified by Pearl I. Young. Undergraduate and graduate students who meet the criteria below are encouraged to apply. Applicants will ideally be involved in a research project of NASA relevance.
Young grew up in North Dakota and attended school there. At age 11 she left home to work as a domestic in order to attend high school. After attending Jamestown College for two years, she transferred to the University of North Dakota. She graduated from UND in 1919 as a Phi Beta Kappa with a triple major in physics, mathematics, and chemistry. Despite her heavy course load, financial necessity dictated that Young work while pursuing her studies. She served as a laboratory assistant in the Physics Department and also worked for the U.S. Weather Bureau. After graduation, she taught physics for two years at UND. She then accepted an appointment at the Langley Memorial Aeronautical Laboratory in Hampton, Virginia. She was the first woman hired as a technical employee, a physicist of the National Advisory Committee for Aeronautics (NACA); that agency later became NASA. She was the second woman hired as a physicist by the federal government. When Young died in 1968, her obituary noted that she had been a scientist, university professor, journalist, lecturer, author, and world traveler.
Applicants must meet the following criteria:
Female gender identity or outside the gender binary
Minimum 3.5 GPA
American Citizen
Student majoring in a STEM (Science, Technology, Engineering, or Mathematics) or STEM Education field at University of North Dakota
Annual Due Date: February 15th
For additional information, please contact the NDSGC team.
Past Recipients
| Name | Year | Field |
| --- | --- | --- |
| Hope Burdolski | 2022 | Secondary Science Education |
| Elizabeth Mislan | 2022 | Uncrewed Aircraft Systems / Commercial Aviation |
| Sydney Menne | 2021 | Physics & Astrophysics / Mathematics |
| Michaela Neal | 2020 | Environmental Studies |
| Hannah Park | 2020 | Air Traffic Management / Airport Management |
| Emmelinne Miller | 2019 | Aeronautics / Air Traffic Management / UAS |
| Cristin Finnigan | 2018 | Space Studies |
| Sophie Orr | 2017 | Space Studies |
| Jennifer Grinsteiner | 2016 | Petroleum Engineering |
| Marika Diepenbroek | 2015 | Commercial Aviation / Mathematics |
| Janelle Hakala | 2015 | Atmospheric Sciences |
| Haylee Archer | 2014 | Physics |
| Heather Jacobson | 2008 | Chemical Engineering |
| Rebecca Bahnmiller | 2006 | Astrophysics |
| Mikayla Tafee | 2005 | Atmospheric Sciences |
| Lisa Maria Geschwill | 2004 | Mechanical Engineering |
| Candyce Hecker | 2004 | Mathematics |
| April Moore | 2002 | Chemical Engineering / Psychology |